Ones That Got Away – Dolly Niemiec-Konwinski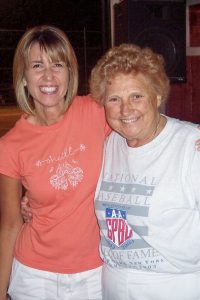 NO! NO! NO! …. Not that one.  That one on the left didn't get away and has dealt with me for the past 33+ years; it's the one on the right, Mrs. Dolly Niemiec-Konwinski.
Dolly played in the All American Girls Professional Baseball League as an infielder from 1948 through 1952, playing for teams out of Chicago, Springfield, Battle Creek, and Grand Rapids, and then played on barnstorming teams that toured the southeast and up the East Coast during the off-season. She retired after the 1952 season, not because she wanted to retire, but because of an auto accident. After retirement, Dolly became a professional bowler, coached her son's baseball teams and umpired high school baseball and softball.
My introduction to Dolly came about two years before I started this project when she visited my hometown sometime during the summer of 2008 as a guest of (and of this, I'm guessing) the local girl's softball league. A stage was set-up for Dolly around second base on the Colt League field, and on the stage, along with Dolly, were two young girls from the softball league dressed in replica All American Girls baseball uniforms. Dolly told stories of her playing career in the AAGPBL and explained why the League organizers designed the style of uniform the girls were wearing. As a consultant for the movie "A League of Their Own," Dolly told the audience her unique perspective of the film from a player's perspective. Dolly has stated, "That experience changed my life for the better." After she finished her presentation, Dolly answered questions and took pictures with her audience, and this was when I took a picture of Mrs. Kelly and Dolly.
When I came to the point of scheduling interviews with players from the AAGPBL, I immediately thought of Dolly and contacted her. We talked about the subject of Just Like Me, and she asked me to call her back in a couple of months to talk about when we could schedule a time to meet but that she looked forward to being a part of this book. During our conversations, Dolly told me she was working on a book herself about her life with the All Americans.
When the time came to re-connect with Dolly, we briefly talked about her book project and mine when she told me this; "Kelly, I'm sorry, but I've been advised not to speak with you by my co-author because it might affect my book sales."
Well, one guideline I have when soliciting players for interviews is this … after explaining the book project, and I'm comfortable that the player understands the project, if they choose not to participate, I do not push the player to reconsider. To stay consistent and credible with this project, I did not attempt to persuade Dolly to change her mind, and I told her that if she had a change of heart, to call me. I said I would be honored to interview her and include her childhood memories of playing on the Sandlot in my book if she chose too. I decided I would re-connect with Dolly a year or two after her book was released to gauge her interest. Unfortunately, before I could contact Dolly after her book was published, Dolly fell ill and passed away on September 22, 2018.
During our conversations, Dolly seemed genuinely interested in being included with the other players, but, as it goes, the timing wasn't right, so we missed out on what I believe would have been a great addition to Just Like Me: When the Pros Played on the Sandlot. Dolly was a joy to talk with and was an energic supporter of the All American Girls Professional Baseball League and for all girls in sports.
Dolly's profile page on the All American Girls Professional Baseball League website: