My First Game at Sportsman's Park
My Dad took me to my first game at Sportsman's Park in the summer of 1959.  We lived about an hour northeast of St. Louis, so if we were going to a baseball game, my Dad always wanted to see a doubleheader.  I remember that the game was against the Giants and it was around July 4th weekend.  Looking today at the historical records, it must have been the doubleheader played on Sunday, July 5, 1959.
By that time the park was already called Busch Stadium.  I can recall my Dad and Grandpa often talking about Sportsman's Park, but as a 7-year-old I thought that must have been someplace else.  They would also talk about the "Browns", but we only had the Cardinals by the time I started following baseball.
The park was on the north side of St. Louis, in a mixed business and residential neighborhood.  My Grandpa worked right across the street, at Carter Carburetor.  I recall that it took some time to find a place to park the car, probably in someone's front yard for which my Dad paid the homeowner.
I clearly remember walking up the ramp to our seats behind the first base dugout.  The field was so green!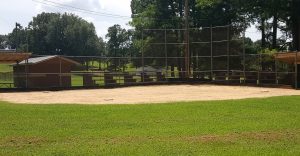 I had my baseball glove with me – a 1958 J.C. Higgins Don Blasingame model.  And there he was, Blasingame playing second base for the Cards!  Next to him on the infield was Stan Musial, playing first base.  As a 7-year-old, I didn't know all the players yet, but I sure recognized Blasingame and Musial.  I also remember that "Sad Sam" Jones was the winning pitcher for the Giants in the second game.
My other clear recollection is that a man sitting next to us caught a foul ball and gave me the ball.  Like most kids of that era, I ended up using that ball to play on the sandlots.  Too bad I didn't keep it.
My first game at Sportsman's Park.  What a day!
PS – Since writing this, Lindy McDaniel passed away.  He was the Cardinals' ace reliever as I first became interested in baseball as a kid.  Upon hearing of his passing, I wondered if he pitched during my first childhood outing to Busch Stadium as described above.  HE DID!  McDaniel entered Game 2 in relief in the 3rd inning and pitched 4 1/3 innings, allowing no earned runs.
Monte Cely
Round Rock, TX.