My name is Robert Story. I am 53 years old. In my youth in Florence, Alabama, I was blessed to have two men in my Little League baseball organization at McFarland Park that have made a lifelong impact on my life – Coach Wendell Hudson and Coach Dennis Homan.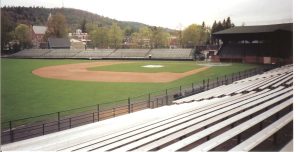 I played on the Red Sox for two years ‐ 1978 and 1979 as best as I can remember. Coach Travis Elliot was my head coach. Coach Homan was my assistant coach. I had already met Coach Homan and his son Matt when I was drafted by the Red Sox.
I first met Coach Homan (at that time he was Mr. Homan to me) when Coach Homan returned to Florence, a couple of years prior to my being on the Red Sox. He and his son Matt Homan came into my second-grade class at Powell Elementary School. Matt came to school in the middle of the year and was sent to Mrs. Faulkner's class. Mr. Homan was with his son at his first day of school at his new school. I remember seeing Mr. Homan's Super Bowl ring when he was in the classroom.
Later on during that year at Powell School, I was in a bad car accident. The right side of my skull was fractured. I had a depressed skull fracture. I was in a coma for about ten days. Mrs. Faulkner had all of my other classmates in the class bring a present for me. Mrs. Faulkner brought the presents to me while I was still in the hospital. She had it arranged so that I would have a present to open every day. Bobby Lovelace's present was the first present that I opened. He had given me a yellow dune buggy Hot Wheels car.
Mr. Homan came by personally to visit me while I was in the hospital. He brought me a ruler that one of the pharmaceutical companies, that he worked for, had given him. Mr. Homan also brought a letter that Matt had written to me. To this very day, I still have both the ruler that Mr. Homan gave to me as well as the letter that Matt wrote me.
The thing that always impressed me about Coach Homan is the fact that he ALWAYS said "Yes, ma'am. No, ma'am. Yes, sir. No, sir." to my parents and all of the other parents even though he was only a very few years younger than my parents were and older than some of the other parents on the team were. Coach Homan treated everyone that way. From what I gather, Coach Homan had that emphasized by Coach Bear Bryant at the University of Alabama when he played for Coach Bryant and became an All‐ American under Coach Bryant. Coach Homan also played for Coach Tom Landry when he played for the Dallas Cowboys.
In my eyes, Coach Homan never gave the impression that he wanted to be acknowledged for anything other than being Dennis Homan. He was an honest man who wanted to treat everyone else as he would want to be treated. I tried to emulate Coach Homan in youth due to the respect that I saw other people had for him. He taught me about teamwork, giving it your all every time that you competed, and respecting your opponent. He had a love of his fellow man.
In 1979, Coach Wendell Hudson became the director of Little League at McFarland Park. My mom became the director of concessions that year. I believe that Mrs. Chandler was the director in 1978. Coach Hudson had just moved to Florence, AL to become the Head Basketball coach for the University of North Alabama. That was about all that I knew about Coach Hudson at the time.
As the year went along, I had a good time playing baseball. Thomas Wallace had moved on to the 13-year‐old baseball league which left first base open for me to move back to and to play. Even though I was back at first base, I still was not good enough to make the all‐star team. I was a little above average, but not ever the best first baseman in the league. Matt was our shortstop and the all‐star shortstop.
Since my mom was over the concession stand, she would often stay for a while after the games were over to close up the concession stand, clean up, count money, and other things. Often times Coach Hudson would come down to concession stand to lock up and see that everything was in proper order. Coach Hudson always had time to sit and talk to me.
At the time, that impressed me that a man who had his forte in basketball would take the time to talk baseball with me. I couldn't understand why it would not be all basketball talk. I was not the most notable player, but Coach Hudson's eyes would light up when he and I would talk baseball. It trilled me and mystified me to some extent that Coach Hudson liked baseball so much.
Years after I had went on, became older, and graduated to the 13-year‐old league and high school baseball, the impact of Coach Hudson had a greater impact on me. I found out later that Coach Hudson had been an All‐American at the University of Alabama as a basketball player. Coach Hudson was also the MVP of the SEC twice. I also found out that Coach Hudson was the first black scholarship athlete at the University of Alabama while playing for Coach C. M. Newton. In 1973, Coach Hudson was drafted in the second round by the Chicago Bulls.
Regardless of the accolades that Coach Hudson had accumulated at this point of his life, Coach Hudson was just Coach Hudson. He bought a Ford Maverick from my family for his wife and daughters – just like anyone else would do. Coach Hudson was just as approachable as my next door neighbor Mr. Fred Cotton. Coach Hudson treated me just as he treated Coach Buddy Dolan, the umpires, and my teammate Mark Dempsey.
Coach Hudson taught me about the love of the game for the sake of competition. He also had respect for his opponent. He emphasized sportsmanship. He demonstrated by his actions as well as in his works. I had a demonstration in real life that all nine players on the baseball team were important, necessary, and valuable to the team.
If I were to look at it from the perspective of the 1979 Red Sox team, Mark Dempsey was the little toe, Matt Homan was the big toe, and someone who was playing his first year of Little League baseball who only played two inning per game was the heel of the foot. But, if that player who had the role of the heel was not performing up to the optimal level, the heel would cause the whole body to suffer. In other words, even though I was the shoulder on the right side, it was extremely important to me for the heel to be able to get me in place to make the proper play just as much as it was for the little toe and the big toe to perform to the optimal level so that the foot worked properly. Not only did I depend upon the rookie and all three parts of the foot, so did Kevin Pearson, Damone William, the rest of the team, Coach Elliot, and Coach Homan.

Later in years, I played recreation league softball in Nashville, TN. In one particular game the sportsmanship that Coach Hudson gave to me came into play. On a hot Saturday morning, I was in the field at shortstop. There was a runner on first. The runner on first was a very good player. While the game was paused to allow the next batter to get in the box, the man on first yelled out, "I'm coming in hard to second, so you better get out of the way!" I called back, "Your butt better be on the ground when you get here because I'm going to let it fly to first as soon as I get the ball!"
As luck would have it, when the batter hit the ball, he hit it to the second baseman. As soon as I heard the ping of the bat, I got my hands up as I moved into position to receive the throw from the second baseman to start the double play. I caught the ball with two hands and let the ball go without the first thought of the runner coming from first or trying to avoid him. Just after I let the ball go, the man running from first took my feet out from under me. As I lay there in the dirt, I looked over at the runner with his foot on second. We laughed a bit while I put my cap back on then helped each other up. We laughed because we each had done what we had said that we do with all the effort that we could put into it. There were no hard feelings from either of us – just a mutual respect for each other. He and I were friends from that point on.
A few weeks later, he was playing the game before my game. I was watching his game from the stands. When he slid into third, he injured his ankle. After he had gotten back to the dugout, I went over to check on him. At the end‐of‐the‐year banquet, he was on crutches because the ligaments in his ankle were torn. But he and I were still friends. This came about from the life lessons about respect and competition that were taught to me by Coach Hudson and Coach Homan.
I was able to get to Nashville in part due to going to the University of Alabama to get my college education. I thought that if Coach Hudson and Coach Homan may have received their training in part from something that was from the University of Alabama, either in the teaching, atmosphere, culture, or legacy of the university, that I wanted to see if I could get that. If you want to apply yourself, you can receive that and achieve that. But it is not something that you just absorb by osmosis. As Coach Hudson taught, you must apply yourself to get what you set your eyes on.
Even though I did not learn any music from either Coach Hudson or Coach Homan, the same principles that I learned also apply to the musical realm also. I have been blessed to learn lessons from many different people in music. Many of the people that I learned from were older than I, some were younger. The respect that I learned from Coach Homan and the importance of all parts of the organization that Coach Hudson helped me to learn and enabled me to gain insights from various styles of music played by different musicians. It worked out many times that the group of musicians have a mutual respect for each other that allows us to put one plus one equals three in effect. We work together as a team.
There are so many other instances where the examples that Coach Homan and Coach Hudson gave to me by seeing each man live out the message that taught have come into play. This summer, 2021, my six-year-old grandson made the Dixie Youth All‐Star team in Savannah, TN. We had the district tournament in Somerville, TN and the state tournament in Sweetwater, TN. Each of the players I would call out as Mr. Davidson, Mr. Bingham, Mr. Tucker, Mr. Clements, Mr. Bates, Mr. Fowler and so on except for my grandson, Juda. I just called him by his first name, Juda. All of the parents I would call by their proper names: Mrs. Clements, Coach Clements, Mrs. Bates, Coach Bingham, etc. I hope that the lessons I learned from Coach Hudson and Coach Homan will be demonstrated by me to them so that they will continue with the lessons that have been handed down from one athlete to another. I try to teach those lessons to my grandson and his teammates since this generation will not be able to get those lessons from Coach Homan and Coach Hudson.
There is one very recent example that this teaching is still going on. Juda, Granna, and I went to see The Singing Christmas Tree at Bellevue Baptist in Memphis, TN this year, 2021. For lunch, we ate at Zaxby's on Union Avenue. At first, we were worried because we saw a bus in the parking lot when we pulled in. We were afraid we would have to wait fifteen or twenty minutes to get our food. But since, Juda wanted Zaxby's we were going to go in and wait to be served. After we entered the first door, there was a young gentleman in an Allen University jumpsuit that was holding the door open for Granna and Juda. He told them to come on in before he exited. I motioned for him to come out before I went in and wished him a Merry Christmas.
It turns out Allen University was playing Lemoyne‐Owen that afternoon. Each of the players and Coach Walker had that certain kind of respect, the kind that had been demonstrate to me as I was growing up, for each other, the crew at the restaurant, and us. The coach and I talked briefly and wished each other a Merry Christmas. Even in passing, another set of friends was made between us. The same respect was there that Coach Homan and Coach Hudson have taught. I'm thankful that there will be another generation to show the lessons.