Grandma thinks Joe Pepitone is cute!!!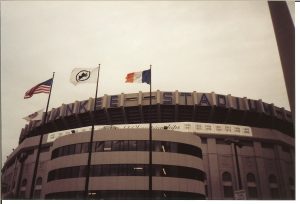 If my memory is correct, the year is 1971, and I've gone full speed ahead in collecting baseball cards. I didn't go anywhere without my box of cards in tow, especially when I went to my grandparent's house. My grandparents lived in the country, and there wasn't another kid around to play with, so when I got tired of climbing trees and hunting chicken eggs in the hayloft, I studied my baseball cards.
This box of baseball cards holds a treasure … a treasure of cards that are sorted by teams and held in place by the rubber bands I've taken off the daily newspaper. I studied the back of those cards like I was getting ready to earn my Doctorate in "Back of Baseball Card Statistics." Of course, I learned what those numbers meant and what it takes to be a star player; unfortunately, I did not show the same interest in school. I wasn't interested in studying or doing homework. English didn't interest me, history and science were OK, and math. I was ready to leave as soon as I walked through the classroom door, but for some reason, I could figure out the batting averages, slugging percentages, and ERA's I found on the backs of those cards. Some players hit a lot of home runs, some players strike out a lot of hitters, some players are great fielders, and some players steal a lot of bases. I knew them all. I studied the players on my favorite teams like the Cardinals, the Orioles, the Pirates, and I even studied the players of the team I hated the most … the dreaded Cincinnati Reds.
I also studied the players on the Detroit Tigers. Why would a kid from Kentucky be interested in the Tigers? Because my Grandad was a fan of the Tigers and their star outfielder, Al Kaline. I was a fan if Grandad was a fan.
Every Friday morning, my mom would drop my brothers and me off at my grandparent's house while she went to the beauty shop and got her hair done, or fixed, or whatever a beauty shop does, but anyway, I just did my thing. I climbed the best tree, roamed the barns, ate whatever cake or pie grandma had fixed for us, and looked at my cards. One ritual I had was to show Grandad any new cards I got that were Tigers players, and then I would show Grandma. Honestly, I don't think Grandma had any interest in baseball or my cards, but because she was the greatest Grandma, she acted like she was interested in looking at my new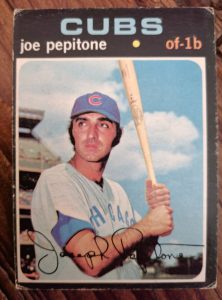 cards. Well, one Friday, as I was showing Grandma the new cards I had collected, all the while trying to impress her with how quickly I could shuffle through my cards, I happened to stop on Joe Pepitone's Chicago Cubs card. As I readied my fingers for another round of superfast shuffling, I heard Grandma say, "Oh, My, he's cute."
"Wait a minute, what did I just hear my Grandma say?" "Did she say Joe Pepitone was cute?" In the eight years of my life, I had never heard Grandma say anything like that … did I really hear her say Joe Pepitone was cute? Surely not.
"Grandma, you think Joe Pepitone is cute?" "I sure do." Well, guess what, beginning on that Friday, Joe Pepitone became a player's card I wanted to collect every baseball season.
So, who is Joe Pepitone?
Joe Pepitone was a star on his high school baseball team; he grew up in a tough Brooklyn, New York neighborhood, with a demanding father determined to make his son a Major League baseball star. Unfortunately, a tough neighborhood means a tough school, and at school, Joe was shot in the stomach by a classmate during his senior year. The bullet traveled through Joe's body, missing vital organs and allowing his baseball career to continue. After graduating high school in 1958, Joe signed with his hometown New York Yankees, and by August, he was playing for the Yankees Class D team.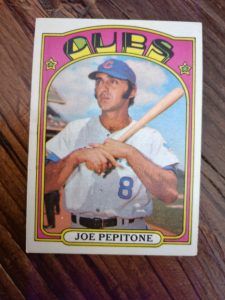 Joe's sweet swing, slick-fielding abilities, and outgoing personality allowed him to progress through the Yankees minor league system, and in 1962, he made his Major League debut. Joe played eight seasons with the Yankees, hitting home runs and driving in runs with teammates and Yankee greats Mickey Mantle, Bobby Richardson, Roger Maris, and Whitey Ford. Those Yankee teams went to the World Series during Joe's first three years in the majors, winning one out of the three.
By all accounts, Joe was a great teammate, always ready to back up his friends in a fight or spend the night out on the town. He was a flashy dresser, always sporting the trendiest styles, and reportedly hung out with folks that didn't necessarily slow down his late-night roaming. His enjoyment of the New York nightlife led to marriages and divorces … business ventures and bankruptcies … and ultimately led the Yankees to trade Joe to the Houston Astros after the 1969 season.
At the time of the trade, the Astros were still a young team, having been in existence for eight years and still trying to gain credibility and respect, so they were not going to tolerate Joe's off-the-field activities, and within a couple of months, he was suspended. The Chicago Cubs quickly picked up Joe's contract, and for the next three years, Joe played for the Cubs. Joe's years with the Cubs were not as good as when he was with the Yankees, but his play was good enough; unfortunately, his nightlife abilities were still in their prime.
Joe's last season was in 1973. The Cubs released him after 31 games, and the Braves signed Joe, hoping he could provide a potent bat off the bench for a team that included Henry Aaron, Davey Johnson, and Darrell Evans. That experiment lasted three games, after which Joe Pepitone retired from a career in Major League Baseball. Hurting for money, he signed a two-year contract with the Tokyo Atoms that started with a game-winning home run but ended 14 games later when Joe asked for his release. Joe attempted one last comeback in 1976, playing in the Triple-A Pacific Coast League that ended like his other stops, after 14 games.
Joe started his career with stardom on the horizon but ended with the brutal realization that he … could have, should have … been the next in line to become another all-time Yankee great.
So, there you have it; Grandma thought Joe Pepitone was cute. Still … truth be told, I don't think Joe Pepitone and his lifestyle was someone my Grandma would have ever approved of, but because I was excited to show her my baseball card collection (and probably because Joe was sporting some styling mutton chop sideburns),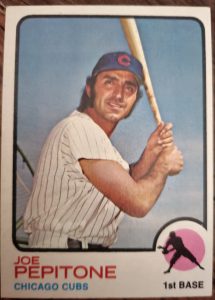 Grandma thought …
Joe Pepitone is cute!!!
References for this post.
https://www.baseball-almanac.com/players/player.php?p=pepitjo01
https://www.baseball-reference.com/players/p/pepitjo01.shtml
https://sabr.org/bioproj/person/joe-pepitone/