Fergie Jenkins – A Baseball Hall of Famer with a Hockey Player's Mind
I walked into the Intercontinental Hotel in downtown Miami around 11:00 AM on the 9th of July, 2017, one day after my oldest son's wedding. I was immediately ID'ed by Major League Baseball security as a threat. Not that I blame them, I hadn't slept in 36 hours, and my appearance certainly did not fit in with everyone else in the lobby. I had just rolled into the hotel lobby of Major League Baseball's All-star FanFest headquarters. The plan for this trip was to interview four to six retired players attending the FanFest, but this whole trip is a short story on its own and deserves more attention, so I'll save that for another day.
The first player in my crosshairs was the Hall of Famer Fergie Jenkins. I had talked to Fergie three days earlier, and the plan was to call him as soon as I got to the hotel, then we would decide where to meet for our interview. I settled in at an out of the way spot that, in a previous life, housed ten (long forgotten) payphones. As anyone of a certain age remembers, hotels that held conventions had a payphone communication center for the attendees that had optimal desk space to write down all of the messages left for you while you were away. Well, I set-up my temporary workstation ready to nail down interviews, and the first up was Fergie. Fergie answered, and after I re-introduced myself, Fergie's first sentence went like this. "Kelly, I'm so sorry, I wasn't able to make it to Miami, my wife is sick, and I needed to stay home," and his next sentence was, "but as soon as you get back home, call me and we'll talk, when would be a good time for you?" We proceeded to talk for another four to five minutes and hung up with an interview scheduled for the next Tuesday. Although it was a brief phone call, Fergie was so accommodating and easy to talk with that I just knew his stories would be great.
And great they were …
Fergie is known as a pitcher with 1. great control, 2. a rubber arm, and 3. a pitcher that could hit. An all-time great with the Chicago Cubs, Fergie had his best year in 1971. Fergie won the NL Cy Young award, given to the National League's best pitcher, and his statistics back that up. Fergie led the league in giving up the fewest walks allowed (great control), in innings pitched (a rubber arm), and his batting stats would be the envy of an everyday player (great stick). Fergie hit six home runs, had 20 RBIs and a slugging percentage of .478. To top it off, he led the league in wins with 24. That was one fantastic season.
Fergie was born in Chatham, Ontario, Canada, and was inducted into the Canadian Baseball Hall of Fame in 1987. In 1991, the BBWAA  elected Fergie into the Baseball Hall of Fame, an honor well deserved, and his career statistics place him in the discussion as an all-time great.
Did I say Fergie was a great guy? He is, but he is also very competitive. His favorite sport growing up was hockey. As a defenseman, Fergie wasn't afraid of getting into a scrap or two.  During one such game, the local baseball scout that turned Fergie into a pitcher attended his hockey game and wanted to know one thing, "why are you so violent?" and Fergie's response, "because I've got to protect my goalie!"
My final confirmation of Fergie being a great guy happened just a few weeks ago. I sent all of the players I interviewed for this book a copy, and I have received many positive comments; and out of the blue, I received this letter in the mail. Just proof that Fergie, along with all of the other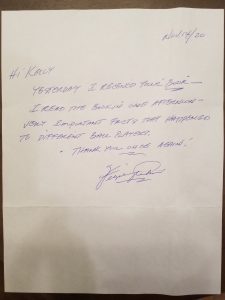 players, is class acts.
Read more about Fergie's youth, growing up outside Detriot in Chatham in my recently released book, Just Like Me: When the Pros Played on the Sandlot.