Boog Powell – Power-Hitter & BBQ Master
John "Boog" Powell is, as I see it, one of the four foundational blocks of this book. As I mentioned in my first blog, when I started this project, I knew no one in professional baseball; I was a NOBODY in their world! But I had an idea, and I looked forward to the challenge of finding, contacting, scheduling, and interviewing players. My first cornerstone block was Jim Hickman; Boog Powell was the fourth.
You would think a player that I consider to be so important to this project would have been a top priority for me to interview, but he wasn't; Boog wasn't anywhere close to a priority. It's not because I didn't want to interview him; it was because he lived 800 miles from me in Baltimore, Maryland. Boog Powell played 14 of his 17 seasons with the Baltimore Orioles. When I became interested in baseball during the 1969 season, the Orioles were winners, and Boog was their power-hitting, slick-fielding first-baseman who I quickly became a fan of, along with the entire Orioles team.
So … how did Boog Powell become the fourth player on the Mount Rushmore of Just Like Me the book? (yeah yeah, I know, there's a lot of metaphors flying around!) Well, unknown to my two sons, they were instrumental in me identifying and ultimately securing his interview. As members of the Technology Student Association, they both won TSA State competitions, which qualified them to compete at the TSA National Conference in Baltimore, Maryland. As with any conference, exclusive events for attendees and their families are available, and much to my surprise, one of the scheduled events was tickets to a Baltimore Orioles baseball game.
Now, to give this story some context, I've got to turn back the clock to 2003 and a quick backstory. In 2003 my buddy Nick and I planned a baseball-themed trip. We started in Cooperstown at the Baseball Hall of Fame. Day three was a game at Fenway Park and afterward moved on to Yankee Stadium for day four (where Nick introduced himself to every uninterested Bronx resident he thought maybe, kinda, sorta, looked his way, "Hi, I'm Nick, and I'm from Benton, Ky"😊). We finished up the trip watching the Orioles play in Oriole Park at Camden Yards. Unknown to us, Boog's BBQ concession is inside the stadium. Before each home game, Boog sits out front, greeting fans,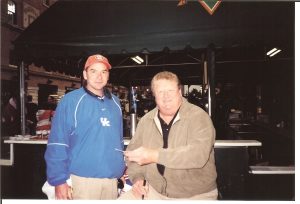 signing autographs, and taking pictures, as evidenced by these professional-grade pictures.
Now, back to the story. My wife and I travel with the TSA group to their State and National Conventions to help out with the mundane tasks associated with trying to keep 10 to 15 teenagers somewhat focused. When we were planning the Baltimore trip, I was also in the middle of trying to figure out how I could set up some interviews when I saw the itinerary. BAM, it was there; the Orioles were hosting the TSA group for a night at the ballpark … and guess who's there … my buddy John "Boog" Powell.
It's game night; I'm in line to meet Boog, I've got my elevator pitch prepped, and I'm ready to go. By this time, Mrs. Kelly had headed for the hills, too afraid to watch me elevator pitch Boog (by the way, if I haven't mentioned this already, yes, we have the same first name, and yes it's spelled the same too). I'm up next, and as I approach, Boog's looking for me to hand him something to sign or for someone behind me to take a picture when … I gave him the elevator pitch of the year, the Ralphie Red Ryder full proof pitch, and what happened next would go down in the annuals of Just Like Me.
Boog said, Yes! Then he said, "Call Derek at Aramark," and he gave me a phone number to contact Derek and schedule an interview, and I walked away thinking, "WOW, that was way too easy," and yes, that was the easy part. After playing phone tag with Derek for a month, he let me know he wasn't the person to set up an interview for Boog; I should talk to Bill in the Orioles office. By the time I talked to Bill, and he confirmed Boog's agreement to meet with me, three months had come and gone, but Bill gave me a couple of dates and told me he wouldn't know the day I could meet with Boog, until the day before. As mid-September rolls around, I get a call at 4:00 pm, "Kelly, this is Bill. Boog can meet you tomorrow at 5:00 pm here in our office." Well, since I didn't have time to catch a flight, I got some sleep and rolled out of the driveway at midnight headed, Eastbound, and down.
Arriving in Baltimore, getting a place to stay, and heading over to the Orioles offices was just like any other workday … very uneventful, so I had nothing else to do but wait for Boog. Meeting Boog was just as I had imagined and hoped. Boog grew up in Florida, spent his last two years of high school in Key West, is an avid fisherman, and had the cool vibe of a deep-sea chartered boat Captain. But he also maintained the aura of a power-hitting first baseman that played through broken fingers, bad backs, and aching elbows because if you asked him to play, regardless of the injury, he played.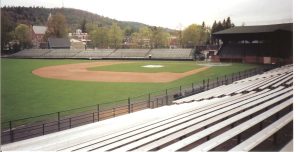 As we began to talk about his memories of playing baseball as a kid, it became evident he was a great storyteller and had great memories of those years growing up in Lakeland and Key West. Boog's 1954 Little League team made it to Williamsburg for the Little League World Series, and when his 1966 Baltimore Orioles team made it to the MLB World Series, he became the first MLB player to play in both World Series. The story of how that Little League team worked through the qualifier tournaments and what happened to Boog's pitching arm is a cautionary tale, but how he finished off his Little League World Series with his famous fade-away hook slide is just as amusing. Boog's stories about his brothers, the short-handed baseball games they played, meeting his idol, Stan Musial, stealing baseballs from the Detroit Tigers during spring training, and his encounter with Bear Bryant is a must-read.
There is one story Boog told me that almost caused me to fall out of my seat. I did a lot of research before our interview, and the whole time he's telling me this story, I'm thinking, "HOLY COW, I think I'm gettin' a scoop." Afterward, I periodically researched the story, never finding it, and finally, six years after our interview, I read that story, almost word for word to the story Boog told me. Now for someone not looking for this story, you probably will not find it, heck, I was looking for it, and I had to deep dive to find it, but still, I can't help but think I had gotten the biggest baseball scoop of the decade, but because it took me ten years to get a publisher, I missed my shot at, "All the Glory." Yeah, right!
After we finished up the interview, Boog went to his BBQ stand to sign autographs. He invited me to hang out with him, and we talked about a whole lot of nothing for about an hour until he had to leave for the night. I hung around, watched the rest of the ballgame, then walked over to a sidewalk restaurant in the Inner Harbor for a smooth bourbon – neat.
Damn! That was a good evening!